Five Essential Tools to Help You Work Smarter
May 23rd, 2016
by Kayla Capps
If you're not using these five Zenfolio tools, you're missing out! Use them to market your business, stay in contact with clients, work on the go, and increase your sales. These tools will help you work smarter, not harder.
1. Visitor Sign In
Visitor Sign In requires visitors to enter contact information before they can view a gallery, group, or collection.

Some photographers avoid setting this up because it is another thing that visitors have to click through before seeing their images, but this tool is quite beneficial to you.
You can set up Visitor Sign In so that once a visitor types in their contact information it is automatically added to your contact list, making it easier for you to communicate with your visitors in the future. You can require specific fields be filled in or you can choose to make these fields optional.
A great aspect of Visitor Sign In is when you set up a gallery as password-protected and enable the sign-in feature, the password field will be added right under all the other fields instead of displaying on a separate page, making this sign in less of an extra step and more of a security requirement.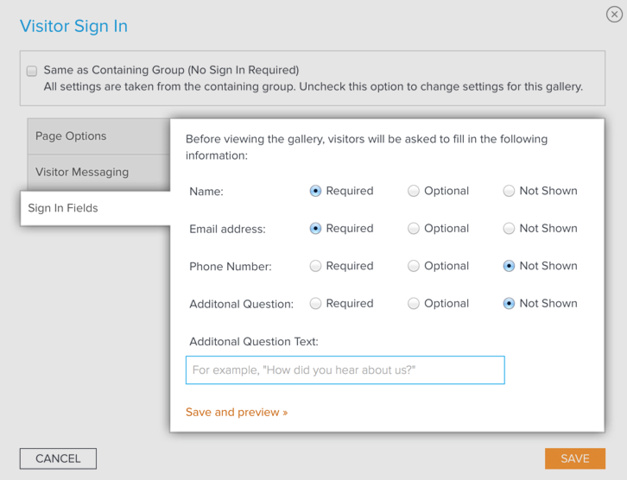 The Visitor Sign In page is highly customizable, allowing you to type in any message you'd like to display or even add additional questions you would like your customers to answer.
Additional resources for setting up Visitor Sign In can be found here.
2. SEO Settings
Search engine optimization (SEO) can seem like a vast, complicated web of never-ending twists and turns. In truth, it's not as complicated as you would think. Zenfolio offers excellent tools on the back end that you can use to make sure your website works its way to being shown at the top of search results.
Search engines like Google, Bing, and Yahoo have their own algorithms for ranking web pages, based on the web page's content. Depending on what a user types into the search field, search engines will try to pull the most relevant results based on these keywords. Zenfolio can help you set up your site with important and relevant information to boost your ranking.
First, we offer a tool to enable or disable the ability to have your site content be publicly searchable. In the photography world, there are just some photos you don't want to have publicly searchable or found without a password on your site (for example, some boudoir photographs). Once you've uploaded a gallery, you can adjust the access control settings to not include photos and videos within the gallery in any search results. This setting can be applied and set for just your site or for search engines.
Now that you've determined which content you'd prefer to be publicly searchable or not publicly searchable, you'll want to give your website a title and description. These fields are most often used by search engines, so it is important to have a relevant and descriptive title. For example, you might set your homepage title to Jane Doe Photography and set the website description to "Portrait and Wedding Photography in and around the Menlo Park, California, area." Descriptions like this will tell search engines exactly what your site is about.
We also offer an efficient way to use webmaster tools provided by search engines within your Zenfolio account. These webmaster tools allow you to see how search engines crawl and index your site. You'll want to start here, add a property (your website), and grab the HTML tag that will be given to you so that you can go back to your Zenfolio settings and paste it in.
For more detailed instructions on setting this up and additional SEO tips, see this article.
3. Triggered Emails
Triggered emails are one of our newer features, so some of our users may not be aware of this tool and how useful it is.
Triggered emails are pre-written emails that are automatically sent to a visitor after they take a specific action. One example would be to have an email sent to a visitor right after they've placed an order. You can set it up to have this triggered and you don't have to do anything manually on your end. Here are additional examples of other types of trigger actions:
When clients sign in to a gallery via Visitor Sign In
When they create a Client Account under your site
When they create a new Favorites list
When they share a Favorites list with you
When they enter their email address on your Contact Page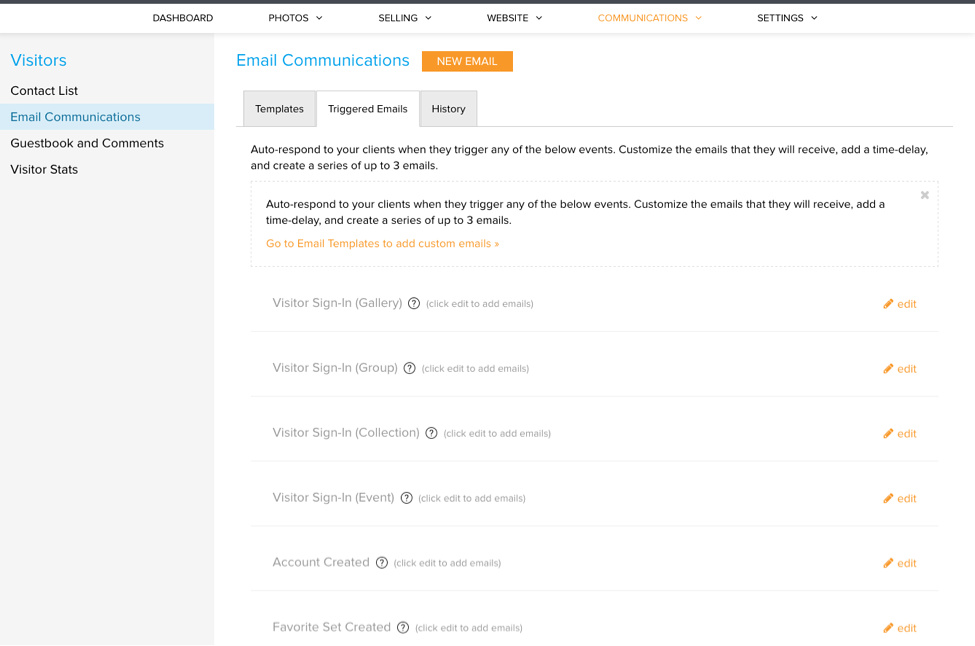 One of the best aspects of this feature is that you can set up a time delay so that the emails are sent out X number of days after the actions are performed (you can send up to three emails in a series). This way it doesn't feel so robotic to your site visitors.
Triggered emails can also use the same email variables when sending out invites and other email communications. So you can include links to a gallery, a contact page, etc.
We have additional resources to help you set up triggered emails here.
4. Zenfolio Mobile App
Did you know that Zenfolio has an app for uploading and sharing?
Once you have downloaded the app and logged in you can perform all types of tasks. Take a photo, upload it and even share the photo with others. There are also additional back-end photo-related tasks you can perform to manage and edit your groups and galleries.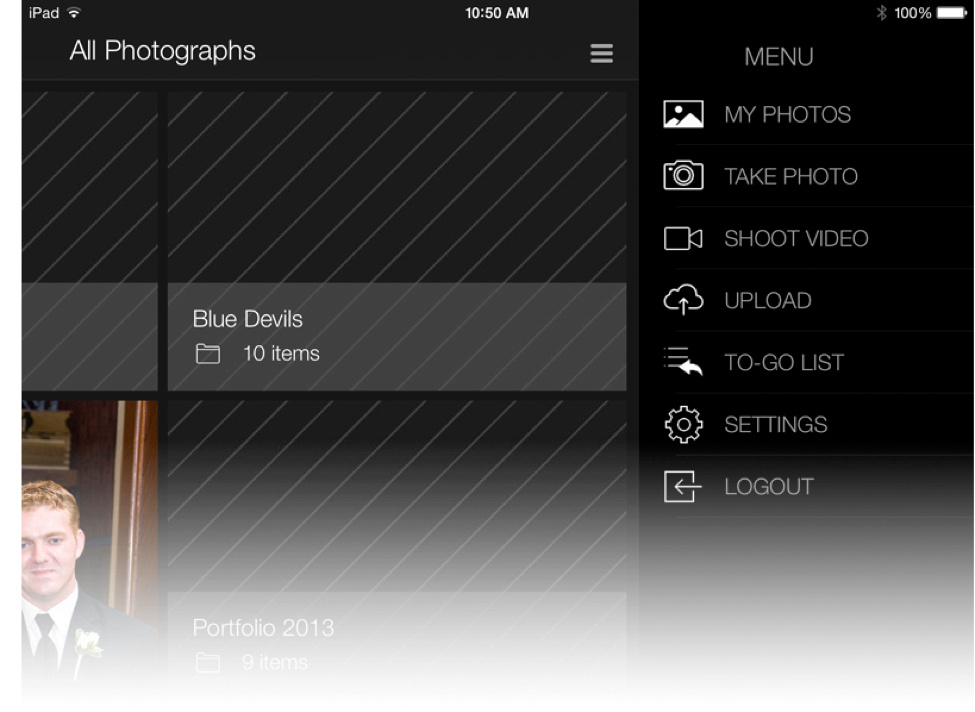 The app also let you create a To-Go List, which allows you to download images on to your phone to view them even when you're not connected to the Internet.
Do you have images you want to post to social media? You can also perform this task within the app with the click of a button.
A help guide article for the iOS version of the app can be found here.
You can also visit this link to download the app for Android.
5. Photo Album Design Service
Our new photo album design service is quickly becoming a hit among our photographers and their clients. Photographers love this feature because it saves them time: All they have to do is take the photos and share them on Zenfolio. The client clicks a button to order, and we do the rest.
The first part of the album process is the Design phase. We start by going through all the images and making the selections for the client. We propose our selections to the client so they can either approve the images or request any revisions they want. Once the selections are approved, we design the cover and page layouts with all the selected images. When the design is complete, we then get final approval from the customer, or work out any last any final requested changes. At this time, we collect payment, print the album, and ship it directly to the client, while you get to sit back and get paid a commission!
The albums are absolutely gorgeous, with professional print quality and stunning designs so your work is displayed beautifully.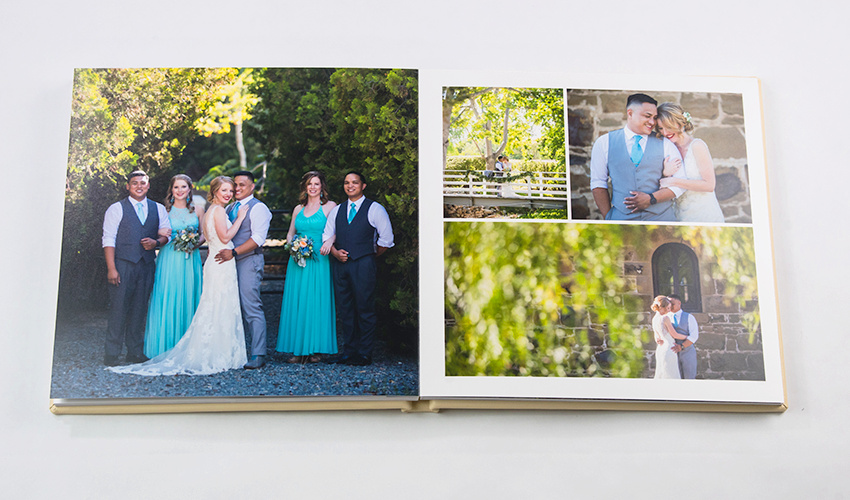 In order to start offering this service to your clients, all you need to do is go to Selling > Photo Albums > and enable the photo album service for your clients (make sure it is marked and saved). As long as the gallery has at least 40 photos in it, this will display as an option for your clients to select and purchase.
For more details on setting this up and how things will work from the client's perspective, see this link.
Kayla Capps is a recent college graduate living and working in Raleigh, North Carolina. She is a Zenfolio Customer Support Representative and has been a professional photographer for four years.