Create your online still life photography portfolio.
An online photography portfolio is a key tool for growing your still life photography business. It is important to create a website that is aesthetic, easy to navigate, shares your brand as a still life photographer, and is a compilation of your best work, as well as your diversity. If this sounds daunting, then keep scrolling – we've got you covered on how to create the perfect still life photography portfolio.
How to create a still life portfolio.
1. Choose an online portfolio platform.
The A-Z in creating your online portfolio is as easy as following these steps: To get started with creating your still life portfolio, sign up for a free trial, like the one on Zenfolio–this is a great way for you to get your feet wet with a platform and see what they have to offer and how it fits your needs before diving right in.
2. Choose a template.
The next step is finding the right template for you–scrolling through templates specifically for still life photography will give you inspiration on how your website can look. When choosing a template, it is important to remember that all of the options are super easy to use, customizable to fit your brand colors and style, and can always be swapped out later if you want to try something different.
3. Curate a selection of your best images.
Once you have the bones of your website with your template, it is time to choose the work that you are going to put in it. The key here is to pick 10-20 of your best still life photography images for the homepage, and 20-30 for each portfolio gallery. While still life photography is all about everyday items, there is such a large variety of what that could specialize in, so make sure when you are choosing photographs that show that off and highlight your skill set. You also want to ensure the photographs in your portfolio are high quality.
4. Be thoughtful of user experience.
It's time for the fun part – start customizing your portfolio by adding in the images, creating the galleries, and deciding how you want users to navigate through your website. Think of this question: what is the story you are trying to tell? Add content blocks with concise, informative text and clear CTAs (calls to action) to help visitors move through your site, from browsing your portfolios, to learning about you or your process, and booking your services.
5. Include social media.
Next you need to optimize your website with its final touches–integrate your social media platforms into the site and add an Instagram feed block. Add a link to your still life portfolio website in all your social accounts and start sharing it with the masses. Use your online portfolio as a tool to network and gain new clients.
What to include in a still life photography portfolio.
Now that we have the structure built, it is time to learn what goes inside of it…
​​Portfolio galleries.
We've talked about the 10-20 still life photography images you'll need for your homepage and the 20-30 for each portfolio, so it should go without saying that you'll need to include one or more galleries in your website. This is one of the most important parts of your website, but great images alone won't get you as many clients.
A bio page.
You are also going to want to share information about you as a photographer. Who are you? Have you always done still life photography? Do you specialize in found or created still life photography? Do you work with food, commercially, just do it as a hobby on the side? You get the picture.
Awards, certifications, and publicity.
If you have any awards, certifications, articles written about you, or any kind of publicity on your work, you are also going to want to find a way to include it within your website. You may choose to have a completely separate page for your achievements or you can work it into your "about me" page.
Contact page.
You should always have a way to contact you on your website–make sure that it is clear and easy to find. You may choose to have a form embedded into your website where you will have to reach out or you could have your personal information available–there is no right or wrong answer, what is most important is that you are comfortable with whichever way you choose. If they can't contact you, they can't book.
Social media.
Having your social media included and integrated into your still life photography website is an absolute must. If you do not have a social media account already, then you will benefit from creating one–start posting! Important rules for your business social media accounts is to be intentional about your posts, while also regularly generating content.
Extra features.
While everything listed above is an absolute must, there are also so many other things that you can choose to include in your website. You can have your own blog where you are generating additional content. You can use some of Zenfolio's other features, like the ability to allow people to book directly through the site. You can add an e-commerce area. You can ask people to sign up for a newsletter. The sky's the limit when it comes to your website, so you best get started!
Why build your portfolio with Zenfolio?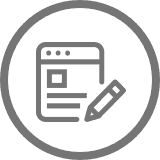 Customizable templates.
Building your online portfolio using Zenfolio allows you to create a portfolio that is completely customizable to your needs. There are a number of beautiful templates for you to start with and then from there you can start building your website – by going with Zenfolio, you'll be able to develop the perfect website without being a website designer and you'll be able to see it start to take shape within minutes.
Shareable client galleries.
Zenfolio has some great features, including shareable client galleries that will help you show and share the photographs you choose. The layout is responsive to fit both desktop screens or mobile phones. You are also able to add videos to the website–even share and host videos right inside the galleries.
Automated workflows.
You will also be able to make your website a one-stop shop when it comes to payment. With a Zenfolio website you can have customers book sessions and pay directly through the website at the same time, taking out the step where you have to follow up for payment later. Zenfolio also uses integrated labs, meaning you are also able to offer customized e-commerce through your galleries. You can sell prints, digital downloads, wall art, or self-fulfilled items from your own online store.
Unparalleled customer support.
When you build your portfolio with Zenfolio, you are never alone. From our friendly and knowledgeable customer support team to one-on-one website set-up classes with our success team to our support center tutorials and videos, we've got you covered. Our support can help ease the burden on you when you're not sure how to use a feature or something unexpected arises.
Frequently asked questions.
You're in good company.
Discover why thousands of photographers trust Zenfolio for their online portfolio needs. Read our glowing customer reviews and see for yourself why our user-friendly platform and exceptional customer support make us the top choice for photographers of all levels.

"I have used Zenfolio since the beginning of my business in 2012…
Read More
to deliver client galleries and handle print orders! It is always a well-oiled machine and the extremely rare times I ever need help regarding customer service, they always go above and beyond. Fantastic photo hosting service!!"
— Kristin Von Eschen
Google Review

"It's been super easy to get educated on all the great features this site offers….
Read More
I'm a brand new start up photography company and I've scheduled 2 phone chats with them and both have been fantastic!"
— Melissa Claire
Google Review

"Zenfolio has by far the best website and business tools on the Internet…
Read More
I have tried every single site out there and none compared to Zenfolio. Their customer service is amazing. I highly recommend them."
— Gary Chevers
Google Review
Try Zenfolio for free and discover how we can help you grow your photography business. With our user-friendly platform, comprehensive feature set, and top-notch customer support, you'll have everything you need to showcase your unique style and build your brand.