Create your online wildlife photography portfolio.
As a photographer, fully capturing the beauty of wildlife can be difficult, but putting together a portfolio shouldn't be. With our help, build an online portfolio website and display your wildlife photography as nature intended it—bright, vibrant, and captivating.
How to create a wildlife photography portfolio.
Get outside.
When you think of traditional wildlife photography, you might think of exotic lands, safaris, and travel. While this can be exciting, it may not be a realistic place to start. If you need photos for your wildlife photography portfolio, capture the nature around you and photograph the animals in your neighborhood or local wildlife preserves. All wildlife photographers need to start somewhere.
Know your client.
When putting together your portfolio website, you want to have a good idea of who you're appealing to. This will not only help you with your photography in general, but it will also help you make simple design decisions for your website like what colors you choose, whether you use captions on your images, and whether you start a blog or not. 

Establish a niche.
This isn't something you necessarily have to nail down right away, but when potential clients visit your website, they should have an idea of where you focus your attention as a wildlife photographer. Don't let this limit you, but also don't be so inclusive with your subjects that your portfolio feels disjointed. It's a balance you can find with time and practice. 

Showcase the best. 
When putting together your wildlife portfolio, it's natural to want to showcase all your hard work, but often this is overwhelming for site visitors. By choosing to showcase only your best work, you create an improved experience for potential clients. Including everything can simply be a distraction. We discuss this more in-depth below. 
Highlight your range.
Once you've established your niche and narrowed your images down to your best, it's also important to consider images that show off your skills. Do you have images that showcase your ability to work in low-light settings? Did you capture stunning motion or action shots with crystal clarity and thoughtful composition? Be sure to highlight all these skills in your portfolio. 
Have a goal.
When setting up your wildlife portfolio website, what is your goal? Is it to book gigs and get your work published? Sell prints? Educate photographers? Or are you simply looking to share your images with fellow animal-lovers in a digital format? Whatever the case, make sure you establish your goal before you set up your website and keep it in the back of your mind while building your portfolio and site pages.
What to include in a wildlife photography portfolio.
When putting together your wildlife photography portfolio, your inclination might be to include every potential piece of work, but as we've mentioned, this lack of focus results in a cluttered portfolio that doesn't keep visitors lingering over your images. Here's what we recommend instead:
1. Your best work.
We've said it before but we'll mention it again because it is so important. Only show off your best work in your portfolio. If potential clients have to scroll through pages and pages of your work, they might quickly become bored or determine that you're not the right fit for them. Limit any portfolios and image collections to about 20-30 images to keep visitors engaged.
2. Your style.
If someone lands on your portfolio and can't quickly identify your style, there could be a problem. As mentioned above, we recommend having a niche with your photography, but beyond that, there should also be an overarching aesthetic. Are your wildlife images dark and moody? Do they focus on exotic wildlife? Do you specialize in classic and black? Again, this doesn't have to limit you, but it should be something you keep in mind when curating. 
3. A blog.
This is not an absolute necessity, but it is something that we recommend all wildlife photographers consider. Having a blog provides you with the opportunity to explore your subject matters more in-depth. For example, where you traveled for the picture, the types of animals you photograph, and any behind-the-scenes stories you want to share. 
4. An online shop.
Again, not an absolute necessity, but with Zenfolio, we make it possible for potential customers to purchase prints directly through your website. This can be particularly convenient for fine art wildlife photographers who typically do not create work for particular clients (i.e. people paying in advance for a photoshoot), and instead rely on customers finding enjoyment in their wildlife shots as art for their homes or workplace. 
5. An about page.
When anyone comes to your website, they should easily be able to locate your about page. Having an about page ensures that potential clients/buyers can learn more about you, your work, and your process. 
6. A contact page.
While a blog can help you with telling the story of your images, on occasion, you might find that potential clients/buyers have further questions beyond what you've provided. Make it as easy as possible for these people to contact you, otherwise you may lose their business. 
Why build your portfolio with Zenfolio?
1. Integrated e-commerce.
As mentioned, with Zenfolio, you can easily choose items from one of our integrated labs to set up your customized online shop. Whether you choose to offer wall art, framed or standard prints, greeting cards, or use self-fulfilled products, an e-commerce is a simple and convenient way for wildlife photographers to make additional income.
2. Built-in marketing tools. 
We want you to have the time to focus more on your craft and less on things like marketing, which is why we've made it as seamless as possible to bring customers in and keep them coming back for more. With everything from email templates and coupon and sale campaigns to convenient social media integration, you'll quickly discover that marketing isn't as hard as you imagined when you have Zenfolio on your side.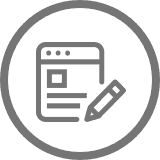 3. Professional website templates. 
In that same vein, we know you want your website to look professional, but we also know you probably don't want to spend hours designing it. Luckily, that's what our templates are for. Thoughtfully designed specifically for photographers, your website can give you the professional edge you crave. Take the time to customize a template with your choice of color, fonts, and logo, content blocks, or simply choose a template, add your images, and fill in a little information about yourself to launch your site in minutes. 
4. Blog integration. 
We already mentioned that having a blog can be a great addition for wildlife photographers, and thankfully, with Zenfolio, we've made it easier than ever to set up your blog. No extra domain is required. Simply decide what you want to write about and get to work, using the same drag and drop content blocks available in the website editor. Your blog could be up and running in no time!
Frequently asked quesitons.
You're in good company.
Discover why thousands of photographers trust Zenfolio for their online portfolio needs. Read our glowing customer reviews and see for yourself why our user-friendly platform and exceptional customer support make us the top choice for photographers of all levels.

"I have used Zenfolio since the beginning of my business in 2012…
Read More
to deliver client galleries and handle print orders! It is always a well-oiled machine and the extremely rare times I ever need help regarding customer service, they always go above and beyond. Fantastic photo hosting service!!"
— Kristin Von Eschen
Google Review

"It's been super easy to get educated on all the great features this site offers….
Read More
I'm a brand new start up photography company and I've scheduled 2 phone chats with them and both have been fantastic!"
— Melissa Claire
Google Review

"Zenfolio has by far the best website and business tools on the Internet…
Read More
I have tried every single site out there and none compared to Zenfolio. Their customer service is amazing. I highly recommend them."
— Gary Chevers
Google Review
Try Zenfolio for free and discover how we can help you grow your photography business. With our user-friendly platform, comprehensive feature set, and top-notch customer support, you'll have everything you need to showcase your unique style and build your brand.