Create your online newborn photography portfolio.
A portfolio website is the most important marketing material photographers can have to showcase their newborn photography skills online. Great portfolios with content that reflects your artistic style and personality will help you attract and book sessions with your ideal clients. Learn how to create an online portfolio for newborn photography and what critical information to include in the content. Creating a professional portfolio has never been easier.
How to create a newborn photography portfolio?
1. Choose a digital platform created for photographers.
Some professional photographers choose to build their own websites on WordPress, but many use website-building service providers to skip the steep learning curve that comes with building a website from scratch. Instead of having to learn all the technical stuff, portfolio website builders built with photographers in mind allow you to speed up the process, so you can focus more time on creating beautiful images.
2. Select a template.
Think of templates like going to the wardrobe and picking the clothing you want to put on when meeting new clients. A template includes the color scheme, fonts, and layout of your newborn photography website, and can also be customized to reflect your brand colors. Templates are an easy way to ensure consistency throughout the portfolio and website pages.
3. Curate the content.
It's time to sort through your newborn photographs and select the ones that are worthy of your portfolio. The best portfolios have an assortment of clients, range of poses, consistent editing style, and include 20-30 images. You can seek a second opinion if you have a hard time choosing between some of your favorites.
4. Search engine optimization.
For improved SEO performance, a portfolio can contain both relevant and descriptive text along with your selected photographs. Adding brief titles to your images that contain location or other relevant keywords on your public-facing website pages is another great way to optimize your site. Consider adding a blog to your website for sharing tips or your latest work–search engines like to see regularly added new content.
5. Organize images cohesively.
You can arrange images by mood, composition, posture, or a combination of the three. Customize the order and make tweaks to make it aesthetically appealing and engaging to the viewers. Newborn photography portfolios that are organized cohesively generate interest, and photographers could also include a call-to-action section to prompt visitors to book a session.
6. Include additional features.
Add descriptions to your newborn photography services will help set the expectations for the potential clients. A detailed service description provides the context of what you do as a newborn photographer and helps online viewers better understand what they are paying for. Consider using additional features that some website builder services offer, including online marketing, session booking and scheduling, videos, and other tools that engage with your potential clients.
What to include in a newborn photography portfolio?
Figuring out what to include in a portfolio can be a daunting task. Here are seven suggestions to help you get started creating your online newborn photography portfolios:
A compelling About Me page.
An About Me page helps the audience get to know you as a newborn photographer. Consider including some personal details, what inspires you, a few FAQ's, or bts photos or videos showing what a shoot with you looks like. A good About Me page allows potential clients to connect with you, increasing the chance they'll book a session.
Build a brand.
A portfolio needs to reflect your personal brand, and it can be accomplished with a combination of the elements that make up your website. The copy, the layout, the fonts, the color, your curated selection of newborn portfolio images; they all help visitors understand the unique style that is your brand identity. A newborn photography portfolio with a brand consolidates the viewers' impressions and builds authority online.
Determine your ideal clients.
Some clients prefer shooting traditional posed newborn photos that involve posing babies in the background with props, while others enjoy a more photo journalistic approach with babies interacting with mom, dad, and other family members at home. Figure out your strengths as a newborn photographer and what you enjoy most, then clarify in your online portfolio how you will use these to meet your ideal clients' needs.
Contact information.
Leave a section on your portfolio website where interested viewers can reach you with questions or to schedule newborn photography shoots. You can also take it one step further and use a portfolio website platform that provides both a contact page and a booking and scheduling tool to save time in organizing all of your client meetings and sessions.
Varied poses and style.
Potential clients love to see that you can shoot a variety of angles, compositions, and styles during a shoot. Including newborn photographs that capture pulled back full body shots, detail shots, and different perspectives in one shoot show clients that you will be able to deliver a gallery with varied images and meet all their needs.
Quality and consistency.
In your newborn photography portfolio, elements such as composition, editing techniques, lighting, color palettes, and tones are important to pay attention to. Showcase your very best work and try grouping images by lighting and color throughout your portfolio for a consistent viewing experience.
Social sharing.
Social media is a great way to put your newborn photography work in front of the audience. Make sure that you provide a link to your portfolio website from your social media accounts, or display your social media feeds in a content block.
Newborn photography portfolio examples.
Get inspired by a stunning collection of real-life examples, showcasing the creativity and distinctive visual aesthetics of newborn photographers.
Why build your portfolio with Zenfolio?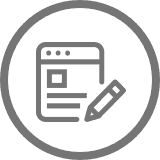 Customizable templates to suit your style.
You can start with a beautiful website template and customize it by adding your own brand colors, logo, videos, images, dragging and dropping content blocks, and much more. Zenfolio's portfolio designs are mobile-friendly and look great in any size on every device.
Secure, shareable client galleries.
Set up online client galleries with password protection and customize the client and visitor sharing permissions to fit your needs and keep images secure. You can also allow clients to choose favorite images, leave comments on photos, and track these client gallery interactions in your activity dashboard. Clients can feel confident knowing their images are safe, and tracking their engagement can provide crucial insights for improving your newborn photography skills and business development.
Marketing and selling.
Our all-in-one platform helps newborn photographers reach customers and drive sales with built-in marketing tools. Professional photographers and beginners can benefit from automating client communications, clear and simple discount and coupon campaigns, a customizable online shop accessible from client galleries, online booking and scheduling, and other time-saving workflows.
Easy to use website builder tools.
The website editor tools on Zenfolio help newborn photographers create online portfolios in minutes. Add content blocks with anything from custom text, service descriptions, photos, videos, and testimonials to customizable buttons and your google map location. Zenfolio customers can also create a custom site domain to build their brand and improve their SEO ranking by leveraging the optimization tools.
Frequently asked questions.
You're in good company.
Discover why thousands of photographers trust Zenfolio for their online portfolio needs. Read our glowing customer reviews and see for yourself why our user-friendly platform and exceptional customer support make us the top choice for photographers of all levels.

"I have used Zenfolio since the beginning of my business in 2012…
Read More
to deliver client galleries and handle print orders! It is always a well-oiled machine and the extremely rare times I ever need help regarding customer service, they always go above and beyond. Fantastic photo hosting service!!"
— Kristin Von Eschen
Google Review

"It's been super easy to get educated on all the great features this site offers….
Read More
I'm a brand new start up photography company and I've scheduled 2 phone chats with them and both have been fantastic!"
— Melissa Claire
Google Review

"Zenfolio has by far the best website and business tools on the Internet…
Read More
I have tried every single site out there and none compared to Zenfolio. Their customer service is amazing. I highly recommend them."
— Gary Chevers
Google Review
Try Zenfolio for free and discover how we can help you grow your photography business. With our user-friendly platform, comprehensive feature set, and top-notch customer support, you'll have everything you need to showcase your unique style and build your brand.