Portrait Photography Examples
Whether you're just getting started, switching up your style of photography, or just looking for inspiration, these portrait photography examples will be sure to help with some fresh ideas.
Best Portrait Photographers
A great way to spark new ideas in your portrait photography is to read up on and study famous and historically relevant portrait photographers and their work.
The portrait photographers featured in this article pioneered new methods or made the styles and forms of their time their own. While all of the photographers we feature are best-in-class, they all got to their height of success in their own unique ways.
Many worked freelance, setting up studios to produce freelance work for magazines. Some got their start in art schools, yet those who did generally started in a different medium, like painting or drawing. Some started early in life, borrowing a camera from a family member, or others, like 19th century portrait photographer Julia Margaret Cameron, got going later in life.
Maybe Arnold Newman's environmental-style shooting will strike you, or Diane Arbus' creative use of street photography, may help expand your own street-style portraiture.
Either way, if you're looking to do more portrait photography, here are some of the best portrait photographers to read up on and study:
Annie Leibovitz
Annie Leibovitz is an American portrait photographer, best known for photographing celebrities using a unique style of lighting, rich color, and posing. Born in Connecticut in 1949, she went on to study painting at San Francisco Art Institute, where she developed her love of photography. Leibovitz worked at Rolling Stone Magazine, Vanity Fair, and Vogue. Arguably her most famous shot was an intimate portrait of John Lennon and Yoko Ono, taken just hours before Lennon's untimely death. Other famous photos by Annie Leibovitz include a nude portrait of then pregnant Demi Moore, and Caitlyn Jenner's cover shoot for Vanity Fair, where Jenner officially came out as trans.
Dorothea Lange
Dorothea Lange was an American portrait photographer, most famous for her photojournalism and documentary-style photography. If her name doesn't immediately come to mind, likely her photograph of a Depression-era migrant mother with hand on chin, surrounded by children will. Lange practiced learning by observing from a young age, which would help her later as a photographer. After growing up in New Jersey, she moved to San Francisco to start a portrait photography studio. While in California, the Depression hit, which gripped Lange. As she photographed the human effects of the collapse, she found her style of documentary photography. One of her techniques as a portrait photographer was to talk to her subjects. Like other photographers in this article, Lange also captured herself using the self portrait style of portrait photography.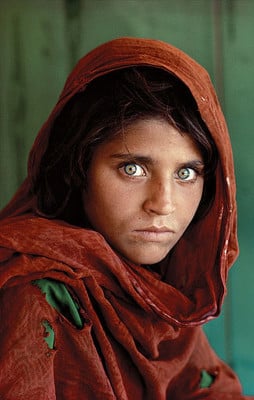 Steve Mccurry
Steve Mccurry is an American photographer, best known for his photojournalism, Born in 1950, he became interested in photography while shooting for his college newspaper in Pennsylvania. Not long after, Mccurry moved to India and began freelancing, taking searing portraits of subjects and various regions in the midst of conflict. His most famous photograph, Afghan Girl, shows the intense gaze of a young girl living in a refugee camp. He happened to be in New York City at the time of 9/11, and captured the fall of the twin towers. A frequent National Geographic contributor, Steve Mccurry's portraits have earned him many awards over his lifetime. A sense of storytelling and conveying the human condition strongly guide his work.
James Van Der Zee
James Van Der Zee was born in a small town in New England in 1886. Creative from a young age, he grew up learning how to play the violin and piano, and as a teenager, took photographs of his family and hometown, creating his own darkroom in his childhood home. At 20 he moved to Harlem, New York City where he went on to open a portrait studio, his primary space for shooting, documenting photos of Harlem residents. James Van Der Zee portraits are known for capturing the style at the time–carefully posed subjects with props and scenery. A year before his death at the age of 96, Van Der Zee photographed Jean-Michel Basquiat for Interview magazine.
Julia Margaret Cameron
Julia Margaret Cameron was a British photographer, born in 1815 in Kolkata (formerly Calcutta), India. She grew up among the upper class members of society, with an aristocratic mother, and a father who worked for a trading company. She didn't take up photography until her late 40's, yet she was prolific until her death at 63. Julia Margaret Cameron's photography style utilized close-ups of subjects and a softly focussed lens, however she received criticism at the time for her photos' "unrefined" quality. Cameron often used allegory, posing children with wings, grouping subjects to represent Shakespearean plays and dressing women to represent the Virgin Mary. Some of Cameron's better-known portraits include those of Charles Darwin.
Yousuf Karsh
Yousuf Karsh was a Canadian-Armenian portrait photographer. Born in 1908, he became a refugee due to the Armenian genocide, coming to Canada in 1932 and settling in Quebec with his uncle, a portrait photographer, who gave Karsh a camera. After opening a studio in Ottawa, Karsh began taking photos of many dignitaries and public figures. By his retirement, the portrait photographer had published more than 20 photos in Life magazine. Yousuf Karsh photos are known for their bold use of lighting. His iconic portrait of Winston Churchill, titled The Roaring Lion, appeared on the cover of Life, and famously appears on England's £5 note. Other famous portrait subjects include Mohammad Ali, Audrey Hepburn, Georgia O'Keefe, and Albert Einstein.
Philippe Halsman
Born in Riga (then a part of the Russian Empire) in 1906, Philippe Halsman was a Latvian-American portrait photographer. After experiencing deeply traumatic antisemitism in his early 20's, Halsman fled Europe soon after the start of WWII. Throughout the 1930's however, he had been working in France and establishing himself through his work for fashion magazines. His success continued in America, where he took many cover photos for Life magazine. He also took elaborate photos of surrealist artist Salvador Dalí, as well as portraits of other famous figures, such as Albert Einstein, Marilyn Monroe, and Richard Nixon. He was known for his sharp style of shooting, and jump-style portraits.
George Hurrell
Born in 1904, George Hurrell was a photographer known for his 1940's Hollywood glamour portraits. Hurrell originally studied painting, and only used photography to document his work. After moving to California, he began to pursue photography. Hurrell's style of shooting often included a full body portrait, and his Hollywood glamour portraits led him to work for MGM Studios. He photographed numerous stars at the time, including Joan Crawford, Clark Gable, and Jean Harlow. After the style fell out of favor, Hurrell took photos for fashion magazines and advertising. Between the 70's and 80's, he was well known for photographing album covers, including Queen's The Works and Fleetwood Mac's Mirage.
Diane Arbus
Diane Arbus was an American photographer, who grew up and spent most of her life in New York City. Her portrait subjects were varied, however she often shot those with unique features or identities–twins, socialites, drag artists, carnival performers, the vast majority found on the streets of New York City and surrounding area. Arbus started with 35mm cameras, then moved to the more crisp, detailed ability of medium-format film cameras. Arbus' famous photos were often shot in homes, parks, streets, and beaches, her black and white portrait-shooting style can be described by centered, front shooting, often utilizing a flash during the daytime to bring subjects distinctly out of their surroundings.
Richard Avedon
Richard Avedon was an American photographer best known for his fashion photography. His interest in photography emerged in childhood, often taking photos of his sister. He went on to study photography at The New School, quickly finding work in art direction for Harper's Bazaar, and setting up his own studio. Avedon infused vibrancy and movement into his photographs, shooting in studio and outdoors. His subjects ranged from public figures like Marilyn Monroe and the Kennedy family, to documentary-style portraits of the American West and the Civil Rights Movement. Many books have captured Richard Avedon's legacy, including one entitled "Nothing Personal," featuring writing from friend and activist James Baldwin.
Irving Penn
Born in 1917, Irving Penn was an American fashion and portrait photographer. He studied art in Philadelphia, and while there, also worked at Harper's Bazaar in the art department. Several years later his photos started showing up in Vogue, where he continued to work throughout his career. Penn preferred the control of a studio-environment, even creating make-shift ones while on assignment abroad. Penn was always trying new things, he was also known for his advertising photographs and still-lifes, as well as detours he took drawing and painting, and in mastering photographic printing. Famous Irving Penn's portraits include those taken of Pablo Picasso, Sophia Loren, David Bowie, and Truman Capote–to name just a few.
Arnold Newman
Arnold Newman was an American photographer. He grew up in Atlantic City, New Jersey, but twice moved down to Florida, once where he studied painting and drawing at the University of Miami, later to open a business of his own in Miami Beach. He moved to New York in 1946, where he opened a studio and worked as a freelance photographer for many popular magazines at the time. Arnold Newman became famous for his use of environmental portraits, employing the subject's familiar surroundings, adding to the photo's composition and the viewer's understanding of the person. Well-known portraits include those of pianist Igor Stravinsky, posed with his grand piano, Pablo Picasso, and Nazi industrialist Alfried Krupp, eerily posed in Krupp's war-era factory.
Herb Ritts
Born in Los Angeles in 1952, and returning after attending Bard College in New York, Herb Ritts got his start in photography while photographing friend and aspiring actor, Richard Gere. The American fashion photographer became famous for his black and white portraits of models and celebrities. Ritts' career began in the late 70s and took off through his work at magazines and on advertising campaigns. His photography was concerned with shapes and simplicity, and his fine art photography continues to be exhibited. Famous Herb Ritts photography includes his work with Madonna, and Rolling Stone Magazine supermodel cover shot, "Stephanie, Cindy, Christy, Tatjana, Naomi, Hollywood, 1989."
Looking for more examples, make sure to look into our best portrait portfolio examples!