Create your online real estate photography portfolio.
Showcasing your real estate photography shouldn't be challenging. It should be effortless, fun, and approachable for all skill levels. Use these tips to build a modern, engaging portfolio and ensure your website attracts your ideal clients.
How to create a real estate photography portfolio.
1. Identify your target audience.
First things first, you need to identify who you're trying to reach with your portfolio. Identifying your target market will not only help you design and build your website to attract a particular clientele, but it will also ensure you're using the correct verbiage in your copy. For instance, if you're targeting people in a certain location, you should know this so you can include it within the copy of your web pages.
2. Do your research.
Once you know your target audience, it is worth taking some time to see how your peers are targeting a similar audience. Not only will this give you an idea of what you like/don't like about other photographer's portfolios, but it is also a good way to see if there are any gaps in the market that you could fill.
3. Organize your work.
The last thing you want to do is build a portfolio and simply throw up any and all pictures that you've taken over the years. Instead, you want to pick your best photos and have them clearly organized for an easy viewing experience. For instance, having different pages for different properties, or clearly marking your commercial real estate work versus your residential work. Keep each collection between 20-30 images; enough photographs to show your versatility, but not overwhelm potential clients.
4. Consider your business model.
You don't have to have every piece of your business figured out before building your portfolio, but don't forget that your goal in creating an online portfolio is to attract clients to your business. If they can't find basic information like your pricing and service descriptions, there's a chance they might like your work, but still choose to go with a different photographer who made all their booking information clear.
5. Use a Template.
While you might have very specific ideas about how you want your website to look, unless you are also a web designer, these very specific ideas may not help you book more clients. As a photographer, it makes much more sense for you to spend time shooting or editing rather than trying to get your website perfect. With a template, you get a professional look without the headache.
6. Consider "extras."
Your primary goal with your online portfolio is to showcase your work, but don't forget, when you build a website, you have the opportunity to add in extra elements. For instance, an about page, contact page, blog, and even a page of testimonials. Again, these things don't have to be included, but they will help make your portfolio more engaging and can result in additional client bookings.
What to include in a real estate photography portfolio.
You can put up your portfolio website, but if you don't have all the key elements included, chances are, you're not going to draw in business. Here are some things we recommended including in your real estate photography portfolio:
Relevant images.
This might seem like an obvious one, but if you don't have clients yet, you might question where you're going to get photos from. Remember, not every photo you include in your portfolio needs to come from a paying client. When you're just starting out, you can ask friends and family if you can shoot their homes. Even if those homes aren't being listed, taking pictures will help you show off your skills to potential paying clients in the future.
A variety of images.
You can pick all your best photos, but if they are all similar in terms of angles and lighting, this is going to limit you. You want to showcase a variety of images that show off your ability to capture real estate from different angles, with different lighting conditions, and with different size rooms in mind. You don't have to go overboard showing every property you've ever shot, but ensuring your images capture the full essence of your capabilities is critical.
An about page.
Yes, your images are the most important aspect of your portfolio, but don't forget, when clients are interested in working with you, there's a good chance they'll want to learn more about you. This can include your work experience, but it can also include more personal details like what you do in your spare time or any other creative pursuits that interest you.
A contact page.
If a client decides they want to work with you, you should make this process as seamless as possible. Ensure you have an easy Contact or Booking page. There are enough real estate photographers out there that if the booking process is difficult, your potential clients will likely just go with another photographer.
Social media links.
Even if you don't love social media, it's undeniably the easiest way for people to keep up with your work. This is especially true if someone comes across your portfolio and doesn't need to hire immediately. If you ensure that there are social media links on your website, potential clients can follow you on social, making it much more likely that they will book you down the line when they require your services.
Testimonials.
Your photos are going to be your best testimonials, but it is also worth including some recent testimonials from past clients. Written testimonials provide a better picture of what it is like working with you. It can boost a potential client's confidence that you will be punctual, reliable, and professional throughout your working relationship.
A blog.
Not every aspiring real estate photographer is going to want to include a blog on their portfolio website, but with more and more competition popping up in real estate photography, having a blog could be the thing that helps differentiate you. Not to mention, having a blog helps show off your expertise!
Why build your portfolio with Zenfolio?
Professional web templates.
You're a real estate photographer, not a web designer. We don't want you to spend time worrying about designing a website, but we also think you deserve to showcase your work in the best manner possible. It's why we've carefully curated professionally designed web templates that are perfect for real estate photographers.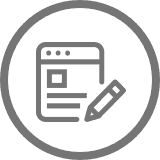 Customizable features.
Even if you don't want to deal with the hassle of designing your website from start to finish, as an artist, you still likely have ideas about how you want your website to look. This is why we've made everything customizable for you. From your colors to your layout, you can design your website to match your branding and aesthetic.
Video hosting.
Today, we know that many real estate photographers also use video. We want you to be able to showcase your videography, which is why we have 4k video hosting included in all our plans, and unlimited storage with our ProSuite subscriptions.
Built in booking features.
As we mentioned above, if potential clients come to your website and they can't easily book with you, there's a good chance that you'll lose the client. We want to help you avoid this by making booking easy. We make it easy for clients to see your availability, select a service, date and time that works for them, and even collect payment. Calendar integration and reminders ensure you stay organized and up to date on where you need to be and when.
Frequently asked questions.
You're in good company.
Discover why thousands of photographers trust Zenfolio for their online portfolio needs. Read our glowing customer reviews and see for yourself why our user-friendly platform and exceptional customer support make us the top choice for photographers of all levels.

"I have used Zenfolio since the beginning of my business in 2012…
Read More
to deliver client galleries and handle print orders! It is always a well-oiled machine and the extremely rare times I ever need help regarding customer service, they always go above and beyond. Fantastic photo hosting service!!"
— Kristin Von Eschen
Google Review

"It's been super easy to get educated on all the great features this site offers….
Read More
I'm a brand new start up photography company and I've scheduled 2 phone chats with them and both have been fantastic!"
— Melissa Claire
Google Review

"Zenfolio has by far the best website and business tools on the Internet…
Read More
I have tried every single site out there and none compared to Zenfolio. Their customer service is amazing. I highly recommend them."
— Gary Chevers
Google Review
Try Zenfolio for free and discover how we can help you grow your photography business. With our user-friendly platform, comprehensive feature set, and top-notch customer support, you'll have everything you need to showcase your unique style and build your brand.