Create your online wedding photography portfolio.
As a wedding photographer, it's essential to have an online presence that showcases your work and attracts potential clients to contact or book you. With all of the options available, choosing the right wedding photography portfolio platform and creating a professional online portfolio of your work that truly stands out can be challenging. Fortunately, in this article, we'll guide you through creating a visually interesting and client-friendly online wedding photography portfolio.
How to create a wedding portfolio.
1. Understanding your brand and visual style.
As a wedding photographer, your portfolio is your most important tool for attracting clients. However, before you can begin building your portfolio, you should first understand your brand identity and visual style. Your brand should reflect your distinct approach to wedding photography as well as what distinguishes you from the competition. Your aesthetic decisions should be influenced by the personality of your brand and your artistic voice and style.
2. Choosing the right platform.
Once you've determined your brand's identity and visual style, the next step is to identify the best platform for displaying your work. As a wedding photographer, you need a website that is simple to use and allows potential clients to contact you easily. Ideally, the platform would also include client galleries, downloading, and print sales, simplifying your workflow for gallery delivery to clients. Consider using a photography-specific platform, such as Zenfolio, which allows you to display your work visually and provides gallery hosting with business management tools.
3. Telling a visual story.
Your wedding portfolio website should tell a visual story that highlights your unique photography style and approach. Potential clients should be able to get a sense of who you are as a photographer and what they can expect from working with you. Choose a variety of photos that highlight your abilities to capture emotional moments or fun candid shots.
4. Search engine optimization.
It is not enough to create a beautiful portfolio website; you must also make sure that clients can find you online. This is where search engine optimization (SEO) comes into play. You can increase your chances of ranking higher in search results and reaching more potential clients by optimizing the content and structure of your website for search engines. Conduct market research and optimize your website's content with relevant keywords.
5. Curate a selection of your best work.
Your wedding portfolio should highlight your best work and your unique style. Consider designing your portfolio to include a variety of wedding styles and locations to demonstrate your versatility as a photographer. Make sure that the 20-30 images you choose for your homepage and each portfolio are high quality and represent your best work.
What to include in a wedding photography portfolio.
Whether you're just starting out or looking to update your online portfolio, here are some suggestions for what to include in your wedding photography portfolio to leave a lasting impression and attract new clients.
​​Showcase your best work.
Showcasing your best work is one of the most important aspects of developing an online wedding portfolio. Your portfolio should include 20-30 images that demonstrate your ability to capture all the key moments and emotions associated with a wedding while still maintaining a consistent style. This is your opportunity to make a good first impression on potential clients, so put your best foot forward. Experiment with various layouts and presentation styles until you find what works best for your work. Remember that your portfolio reflects your brand, so make sure to highlight your distinct style and approach to wedding photography.
Make your website clear and intuitive.
While creating your wedding portfolio website, it is critical to have all of your information presented clearly and intuitively. Prospective clients should be able to learn about what it is like to work with you, your experience, and peruse a clear list of your services and prices quickly and easily. You can stand out from the competition and make it simpler for customers to access your site with a clear and uncluttered website design. Use headers or bullet points to highlight important details and consider breaking up your content into manageable pieces.
Client testimonials.
Client testimonials are a powerful tool for demonstrating you are dependable and suitable for the job. Future clients can tell how good you are at what you do by reading client testimonials on your portfolio website. It is essential to make sure that their trust in you is recognized and appreciated. When gathering testimonials, make sure to ask them for specific input on their experience working with you. To give your website a personal touch, include their names and images (with their consent.)
Clear and easy navigation.
It's essential to keep in mind that your typical client is probably exploring a wide range of photographers for their special day. Making your website simple to navigate is essential, especially when it comes to viewing your wedding portfolio, information about your services and pricing, and how to contact you.
Contact page.
For your wedding portfolio website to be successful, it should include an easy way for clients to reach out, such as a contact page. Make sure it is included in your site menu so that customers can easily find where to contact you, and consider a platform with embedded and customizable contact pages that clients can fill out which send you an email with important details. Keep in mind that the fewer steps your clients have to do to get in touch with you and book your services, the more likely it is that they'll do so.
Include an About Me page.
Your photos are going to be your best testimonials, but it is also worth including some recent testimonials from past clients. Written testimonials provide a better picture of what it is like working with you. It can boost a potential client's confidence that you will be punctual, reliable, and professional throughout your working relationship.
Wedding photography portfolio examples.
Get inspired by a stunning collection of real-life examples, showcasing the creativity and distinctive visual aesthetics of wedding photographers.
Why build your portfolio with Zenfolio?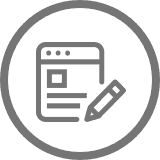 Customizable templates that showcase your brand identity.
Zenfolio is a comprehensive platform created specifically for photographers. It provides thoughtfully designed, customizable templates that can be tailored to your brand's identity and personal style. With Zenfolio, you can showcase your work in a way that highlights your approach to wedding photography, allowing clients to better understand your vision and decide if you are the right fit for their special day.
Password-protected client galleries for secure access.
One of the most significant advantages of using Zenfolio for your wedding photography website is the client gallery. Your clients can access their photos directly from your website and even order prints using password-protected client galleries. This feature keeps client images secure yet simple to deliver and share, allowing you to concentrate on capturing stunning images, creating memories, and delivering your work on time to your clients.
E-commerce platform for selling your photos and services.
Zenfolio offers a robust e-commerce platform, allowing you to sell your wedding photography photos and services directly from your website. You can design pricing and packages to fit your preferences and level of expertise. These features ensure that your service is streamlined and efficient, increasing your chances of more bookings.
Social Media connectivity to boost your online presence.
Zenfolio's social media integration is an asset for any modern wedding photographer. You can easily link your social media accounts to your website with Zenfolio, increasing your online presence and making it easier for potential clients to find you. The Instagram feed block enables you to automatically include your posts in any page of your website, allowing visitors who aren't quite ready to book the ability to follow you on social media–and you more chances to connect and convert them.
Frequently asked questions.
You're in good company.
Discover why thousands of photographers trust Zenfolio for their online portfolio needs. Read our glowing customer reviews and see for yourself why our user-friendly platform and exceptional customer support make us the top choice for photographers of all levels.

"I have used Zenfolio since the beginning of my business in 2012…
Read More
to deliver client galleries and handle print orders! It is always a well-oiled machine and the extremely rare times I ever need help regarding customer service, they always go above and beyond. Fantastic photo hosting service!!"
— Kristin Von Eschen
Google Review

"It's been super easy to get educated on all the great features this site offers….
Read More
I'm a brand new start up photography company and I've scheduled 2 phone chats with them and both have been fantastic!"
— Melissa Claire
Google Review

"Zenfolio has by far the best website and business tools on the Internet…
Read More
I have tried every single site out there and none compared to Zenfolio. Their customer service is amazing. I highly recommend them."
— Gary Chevers
Google Review
Try Zenfolio for free and discover how we can help you grow your photography business. With our user-friendly platform, comprehensive feature set, and top-notch customer support, you'll have everything you need to showcase your unique style and build your brand.