Create your online product photography portfolio.
Product photography is the most lucrative genre of the photography trade, and an online portfolio will help get your foot in the door. Here you will learn how to create an online portfolio for product photography and what it takes to build one of the best portfolios out there.
How to create a product photography portfolio?
1. Find a niche.
There are thousands of niches in product photography, and you need to find one or two niches that interest you the most to be highlighted on your portfolio website. Niches to consider are cosmetics, electronic gadgets, jewelry, food and beverages, lifestyle products, and anything that could be sold to consumers. Keep an open mind to change niches and pivot as life presents different opportunities in your product photography career.
2. Determine the audience.
Knowing what niche you're interested in is not enough. You will additionally need to match it with the right type of potential paying clients. Creating a strong and intentional product photography portfolio means deciding on the type of client or brand you want to attract, then creating the type of work that appeals to them. This will help your online portfolio stand out and get your first paid clients more quickly.
3. Choose the right website platform.
There are a lot of website building platforms to choose from. Find a platform with templates and website editing tools designed for photographers; these features can help product photographers create professional-looking websites in minutes, and can usually be adjusted to fit different style needs. Unless you're already familiar with building websites using programming languages, choosing a platform with straightforward tools to create an online portfolio saves time–especially ones like Zenfolio with easy to customize content blocks.
4. Choose your best work.
Less is more is a good motto when selecting the best work for your product photography portfolio. Narrow your homepage and each portfolio down to about 20-30 images so as not to overwhelm visitors. Get a second opinion if you can't decide, and make sure the ones you pick are on-brand and represent the work you enjoy creating.
5. Update regularly.
Keep the content fresh by updating your product photography portfolio regularly, even if that means swapping out just one or two photos. Updating the portfolio regularly will help your product photography website maximize exposure, as active websites gain favor in Google algorithms.
What to include in a product photography portfolio?
Product photography is closely associated with commercial activities, and its main purpose is to drive sales of products and services. Here are six items to include in your online product photography portfolios:
​​Concepts and styles.
Clients look for what they can identify with and sell when they look at your product photography portfolio online. You're dealing with people who have short attention spans, so you want to knock them off their feet with the first few images. It's helpful to organize by themes/concepts, whether it's color or subject matter, and try to find a rhythm and place ones with the similar theme together to create the transition flow. This curating process will create a unique style for your online portfolio.
An About Me page.
The About Me page should include your name, what you do and where you're based. Include some personal details or things that inspire you creatively to help visitors connect with you and your brand. An About Me website page can help with building your brand; consider visiting other prominent product photographers' online portfolios to get ideas or be inspired.
Curated portfolio galleries.
Your homepage or landing page is an ideal place to show a selection showcasing the range of your product photographs. Your online portfolio galleries are where you showcase collections of your best photos, organized by type of product or style of shoot.
Watermarks
A watermark is a superimposed image, logo, or text placed over a photograph. Watermarks help protect photographers by rightfully giving credit to those who took the photos. Adding a multi-colored watermark to your product photographs is a good practice to help ensure your work receives proper credit, and can also build brand identity.
Rates
To save you time replying to enquiries who can't afford your rates for professional product photography, it helps to include a pricing and services page. Some product photographers charge their time by hour or day, while others charge by the product quantity or the image volume. You can certainly mix the above three to create a hybrid model, or offer adjustable pricing schemes for various situations.
E-Commerce element
Offering e-commerce through certain galleries can not only help product photographers sell their work directly to customers searching for product stock photos, but can also build online visibility for their product photography brands. Selling tools can also be utilized in client galleries to sell additional digital downloads, depending on your product photography packages. Portfolio websites with an integrated selling function can help photographers to earn additional income on existing work.
Why build your portfolio with Zenfolio?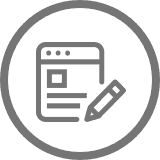 Customizable templates.
Zenfolio's website building feature has pre-built templates that you can easily customize with your own logo, a custom site domain, and animation videos. Adjust any template to use your brand colors and choose a font combination that's right for you. The website block editor gives you the freedom to include headers, text, customizable CTA buttons, and then upload photos, videos, and gifs to your image blocks in a few clicks.
Secure client galleries.
Zenfolio subscribers enjoy customizable gallery templates to save your security and download settings, allowing you to apply these templates to your client proofing galleries. Custom watermarking is available for enhanced image and video security. You can also share galleries directly with your clients via email or direct link, set gallery permissions for visitors, and enable gallery favorites and commenting to allow client interaction and feedback on your images.
AI culling and sorting.
The advanced AI technology used by our PhotoRefine AI tool takes the work out of grouping, rating, and culling images so you won't struggle in selecting the best gallery images to share with clients. This cutting edge technology is private as you cull and sort on your desktop, then maintain control of the access and security settings on images once uploaded into galleries in your account.
Selling and marketing tools.
Zenfolio's E-commerce features enable you to set up a price list of commonly sold products, bundle photos with services as a package, automate client marketing using email templates, and drive sales with built-in promotional sale tools.
Frequently asked questions.
You're in good company.
Discover why thousands of photographers trust Zenfolio for their online portfolio needs. Read our glowing customer reviews and see for yourself why our user-friendly platform and exceptional customer support make us the top choice for photographers of all levels.

"I have used Zenfolio since the beginning of my business in 2012…
Read More
to deliver client galleries and handle print orders! It is always a well-oiled machine and the extremely rare times I ever need help regarding customer service, they always go above and beyond. Fantastic photo hosting service!!"
— Kristin Von Eschen
Google Review

"It's been super easy to get educated on all the great features this site offers….
Read More
I'm a brand new start up photography company and I've scheduled 2 phone chats with them and both have been fantastic!"
— Melissa Claire
Google Review

"Zenfolio has by far the best website and business tools on the Internet…
Read More
I have tried every single site out there and none compared to Zenfolio. Their customer service is amazing. I highly recommend them."
— Gary Chevers
Google Review
Try Zenfolio for free and discover how we can help you grow your photography business. With our user-friendly platform, comprehensive feature set, and top-notch customer support, you'll have everything you need to showcase your unique style and build your brand.